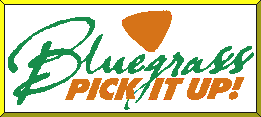 LARRY's COMPILED LIST OF 2004 BLUEGRASS FESTIVALS
Going for 800 BG festivals this year. Stay tuned for lots and lots of exciting Bluegrass Festivals. If you promote one, or know of a BG Festival you want listed, or it is not out here, please let me know the particulars about it, and I will get it out here.
Tell 'Em you saw it on The "BLUEGRASSGUY's"s Site.

Press the month you would like to see Festivals for.













NOT responsible for inaccuracies. Please call ahead before traveling long
distances, as lineups, schedules, locations, and even dates may change.

If you have a festival coming up in 2004, or know of one I don't have
listed, e-mail me at the address on the home page and tell me the
particulars. I will get it out here. Thanx in advance.
Going for 800 now. SEND ME FESTIVALS.

Page maintained by - Larry Reighard - Copyright © - 2004 - lreighar@mail.win.org